Buy your printer ink cartridges here
OR
Think Smarter and slash your spending on ink cartridges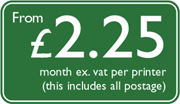 Buying ink cartridges at expensive high street prices is an unwelcome burden for any business. Planet Ink Club offers the ideal solutions to keeping your ink costs down and your business printing smoothly. For a low cost monthly fee, we'll recycle and refill your inkjet cartridges with quality ink, as often as you need.
How it all works
Join & we'll send you FREEPOST return envelopes for your empty inkjet cartridges.
Return your empty inkjet cartridges via post.
We'll recycle & refill your cartridges with quality ink & deliver direct to your door, ready for use.
Reduce Costs
The cost effective way to print - Planet Ink Club's ink cartridge recycling service offers massive savings against high street prices. Check how much money your business can save here
Simplicity
No surprise spikes in costs whenever employees run out of ink, pay just one flat monthly fee for all your ink needs.
Freedom to Print
Whether its quotes, reports or photographs, empower staff to print what they need, when they need it, without worrying about the expensive cost of buying ink cartridges.
Quality
Planet Ink Club cartridges produce consistent quality prints that a business can rely on.
Help the Environment
Planet Ink Club is the economical and eco-friendly way to print. Recycling ink cartridges you can print all that your business demands while reducing your businesses impact on the environment.